I scoured avenues on how to get a foothold into the Oliver Anthony camp. Luckily, I ran across the Joey Davis Music / Facebook Messenger and proceeded to engage in conversation with Joey.

- Tennessee's Joe Johnston Lampifier SE Representative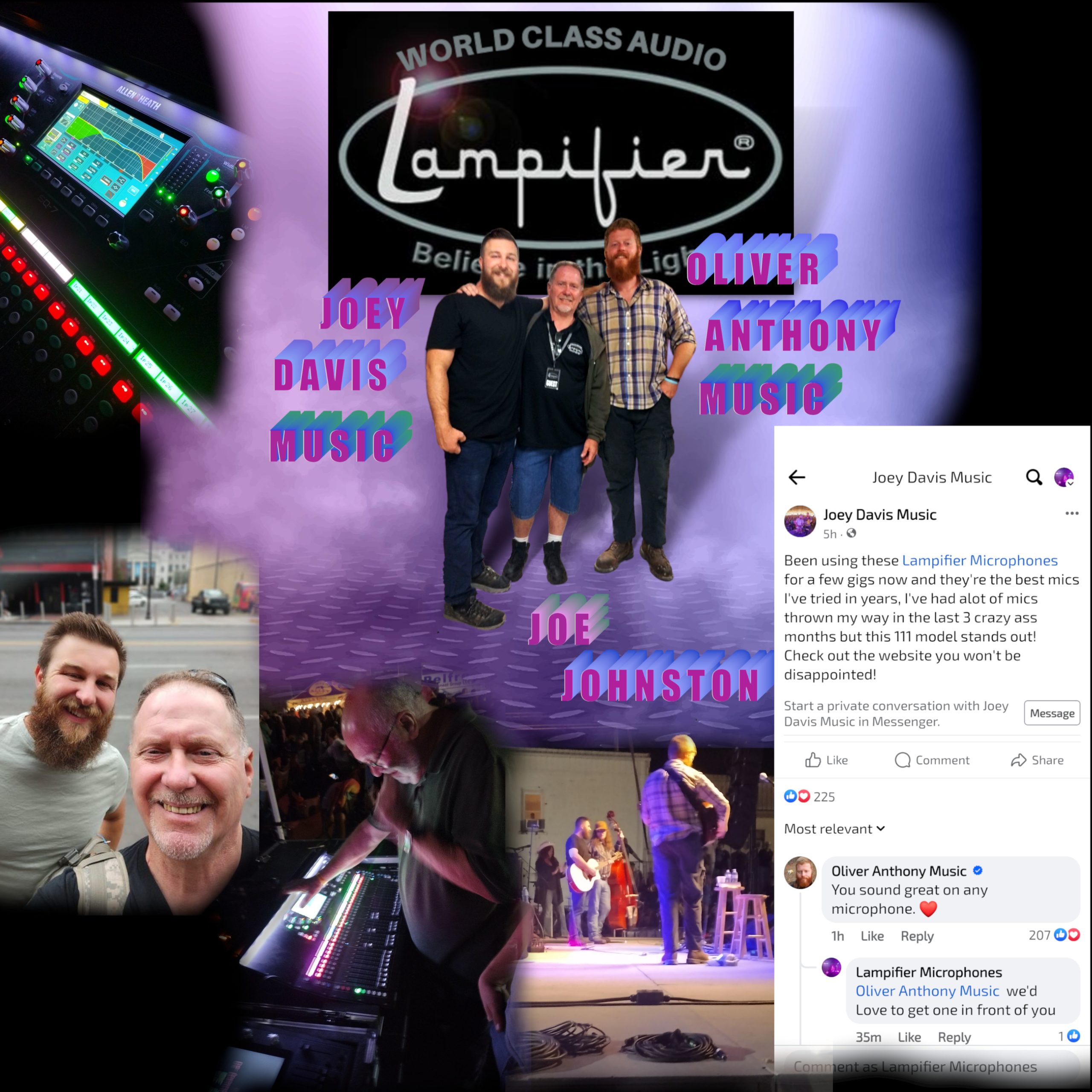 After multiple exchanges I cut through the chase and said... Joey, I'll travel to wherever let's talk in person, and take it from there... And so, from there it began! It was no easy task, but I was determined to make it so. *Poppy Mountain Bluegrass Festival in Morehead Kentucky 09/14/23 where he and I initially met. I gave him a detailed overview (despite multiple distractions by admiring fans) of the mics features advantages and benefits they offered.
Joey was intrigued in the module workings of the Lampifier Programmable Microphone, and this heightened his curiosity to hearing the device live, in real time. However, I am very adamant not to step on any toes, especially their sound engineer's decision, so I expressed point blank that it was ultimately up to them; Joey agreed.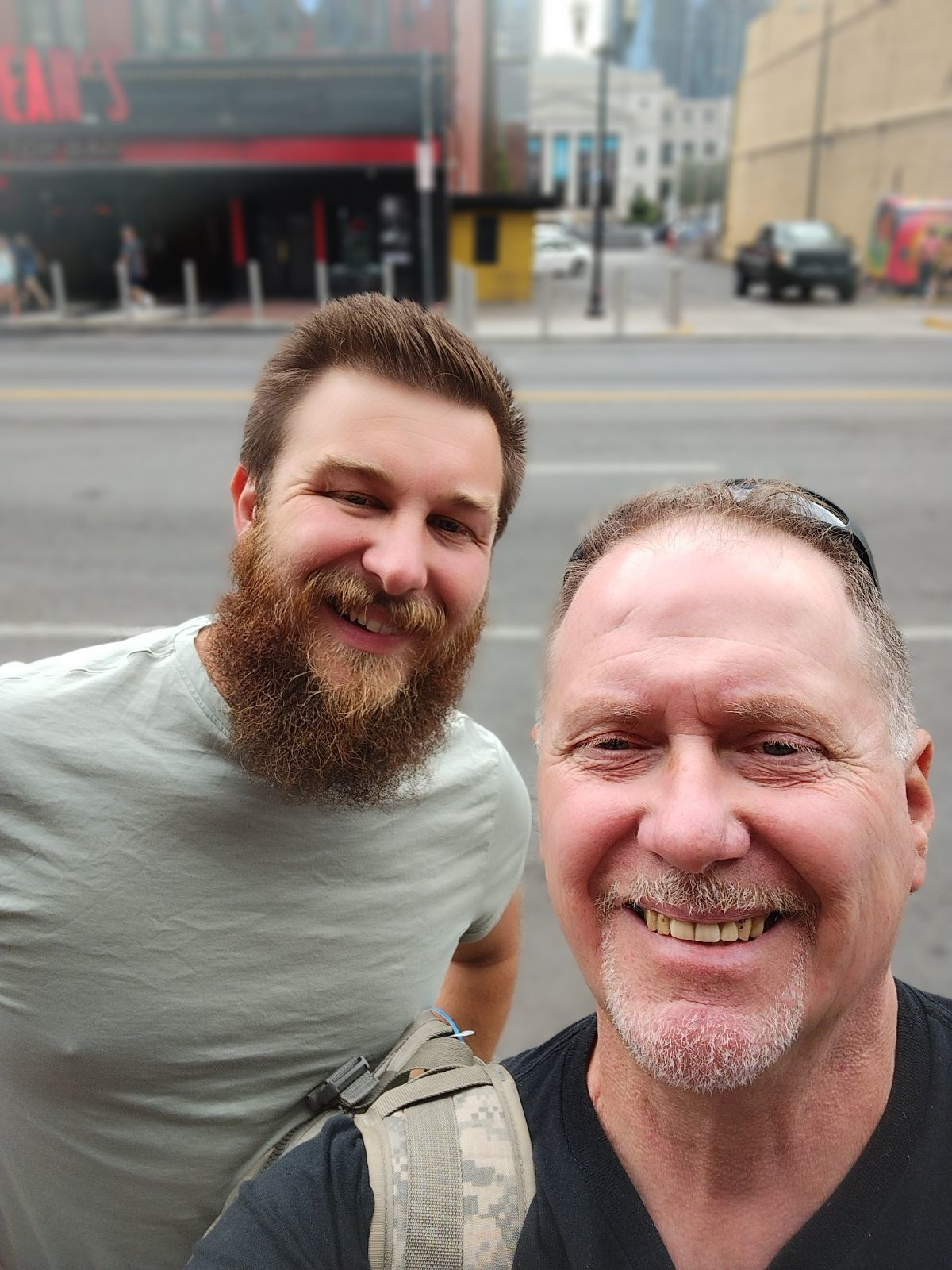 I honored his wishes and approached the sound tech about running Lampifier Programmable Microphone during Oliver's Anthony's set. I went briefly over the mic with him, including polar pattern, frequency response, line trim, flat EQ starting points, etc...
He said "OKAY", and to come back about 45 minutes before their set, and we'll get it done. When I returned (on time) he said Oliver and Joey stopped by the board earlier and said they were satisfied with how the initial mix sounded out front, and not to change a thing.
Immediately my spider senses tingling B.S went off the charts, which I knew would turn out to be a blatant lie after further investigation. So, I left the venue, confronted Joey about the bogus conversation that allegedly transpired via text message at a Rest Stop on my 6-hour trip back to Tennessee. Joey responded by typing that the latter conversation never took place, which confirmed my suspicion, but, no harm done, must move forward is how I felt, because I knew that this had only heightened my determination to get the Lampifier mics up on a stage.
My next opportunity was at Louisville, Kentucky's (09/21/23) Louder Than Life festival. A projected 180,000 would walk through the gates over the long 4-day event.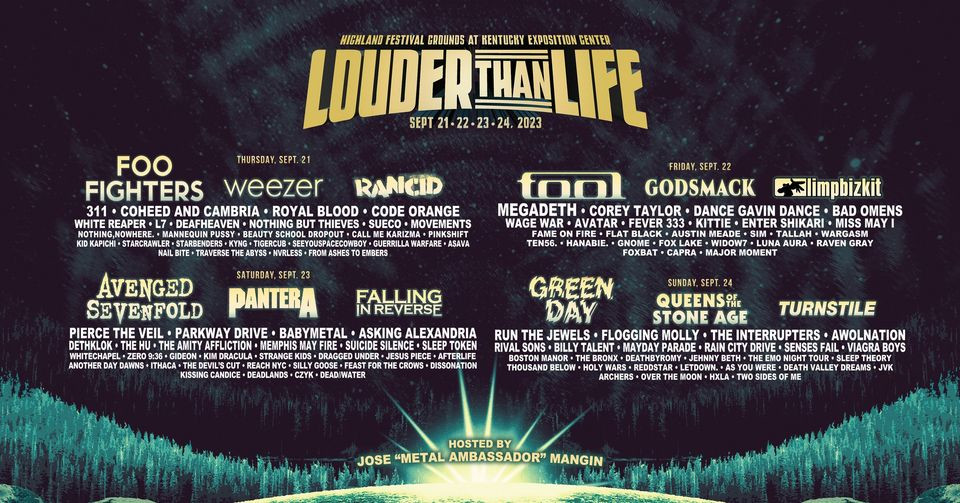 But here I am with another setback, this time facing astronomical ticket prices. So, unable to secure a pass-through with my credentials, I contacted Joey via text to inform him of the ridiculous ticket prices, which I now regret mentioning. Joey and Oliver had no control over it, and they weren't even aware that I was coming in the first place. My reckless actions may well have jeopardized any chance of sealing the entire deal of ever getting a Lampifier Programmable Microphone in front of them on stage.
Wallowing in a self-induced predicament, I did my best and walked the outside perimeter, distributing an estimated 700 business cards. This effort paid off after the 4-hour drive back home, as it generated 900 much-needed hits on the Facebook Lampifier Microphones page. That boosted my morale after a regrettable decision, causing the Facebook numbers to skyrocket. So, once again, I'm pondering the next move!
I was relieved to learn that Joey found time a few days later to check out both microphone models in private. He was highly impressed with their performance, so much so as to say they were the best he'd seen in years, and he went public with his intentions via the Joey Davis Music Facebook page to use the Lampifier Model 111= Lampifier Model 111 exclusively for two upcoming live streams."
Joey Davis Music wrote: Been using these Lampifier microphones for a few gigs now and they're the best mics I've tried in years I've had a lot of mics thrown my way in the last three crazy ass months but this 111 model stands out check out the website you won't be disappointed.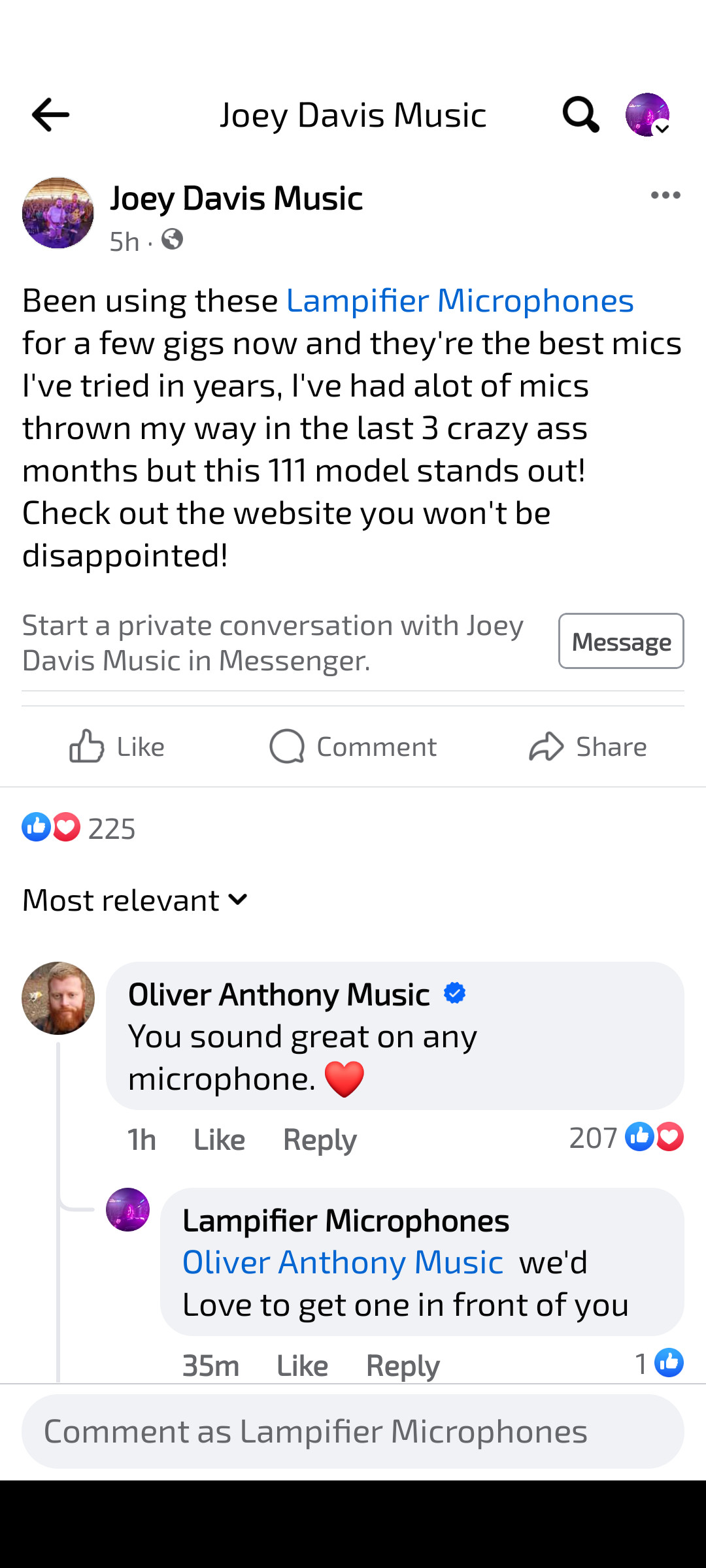 Eventually, he (Joey) discussed with Oliver during the trip to Paintsville, KY, on 10/04/23 at Alley Fest 2023. He made it known to Oliver (reiterating) that the Lampifier Programmable Microphones excellent overall clarity, which they had experienced, was the best sound quality he had encountered in years. This conveyed his confidence that the Lampifier Programmable Microphones would undoubtedly enhance their vocals and the overall show experience for the audience.
Oliver replied, "Okay, let's give it a shot."
They collectively approached the front-of-house technician and informed him that they would be using the Lampifier Programmable Microphone 111's tonight."
I was immediately called to the board by Joey.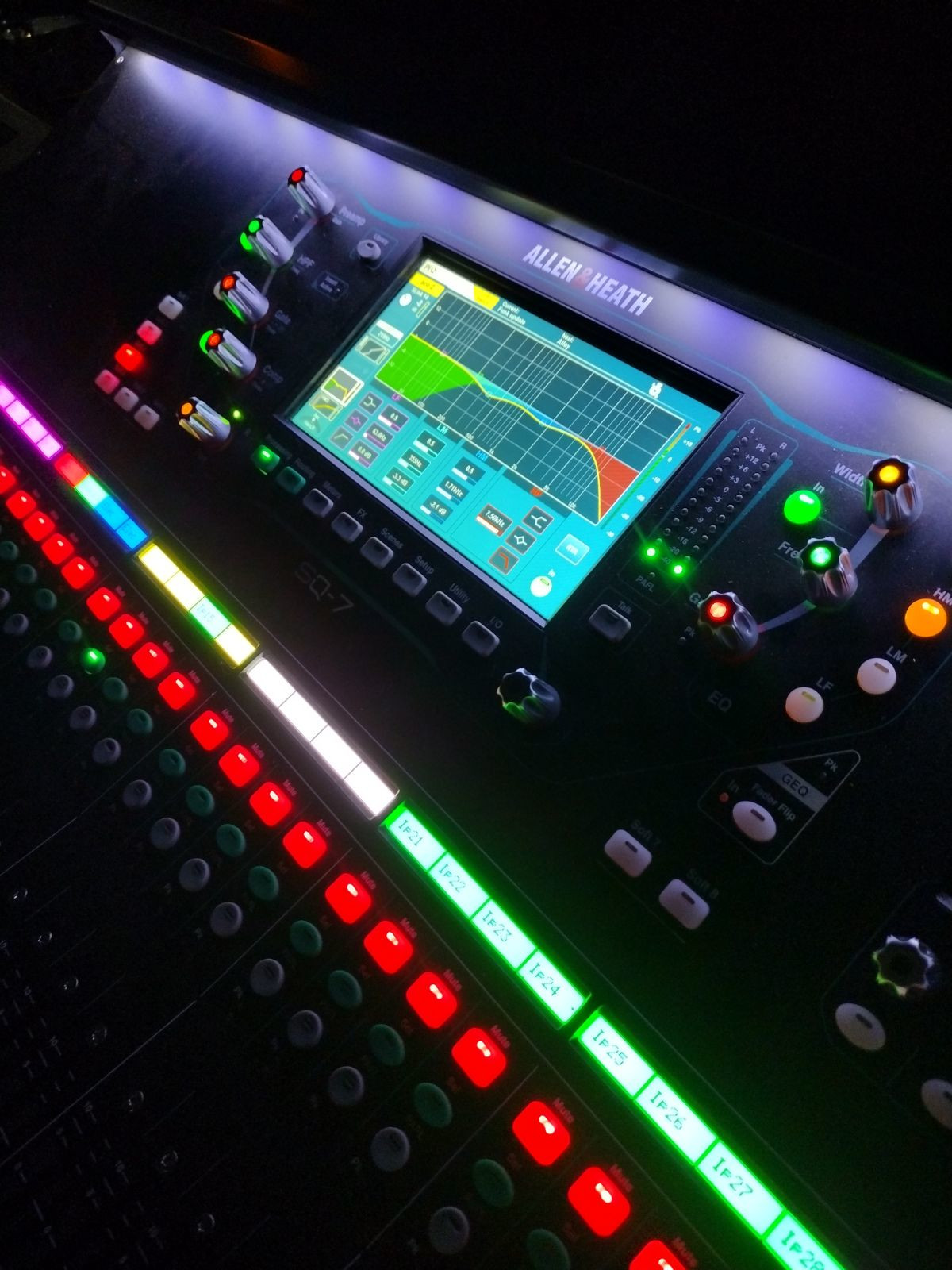 I gave the engineer (Stephen Hoffman) a brief overview of what's going on inside the Lampifier Programmable Microphones and what to initially expect.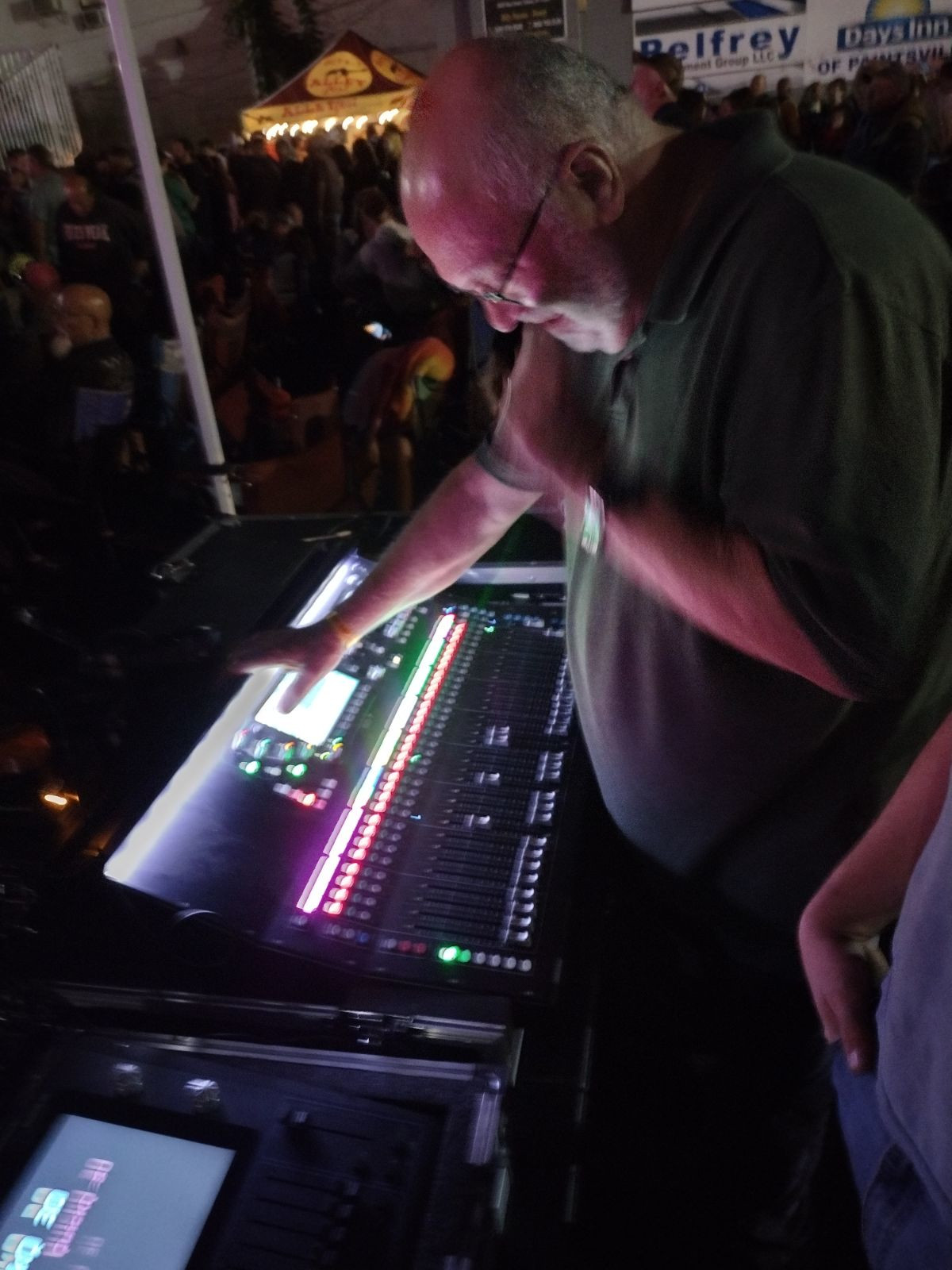 Steve smiled like a kid, looked at me, and said, 'This is going to be fun!
The show was sonically remarkable from the front as I stood alongside Steve, a veteran with over 40 years of experience in the business. He has worked in sound reinforcement and previously served as a tour manager for Exile.
Then, he turned to me and said that it was the easiest show he had mixed in recent memory. He offered to pass on my card to Jeff Branham,
the owner of the production company.
I left the sound desk with the assurance that Stephen had everything under control, all the while reveling in the beautiful sound emanating from the speakers. I returned to the backstage area to receive feedback from the monitor engineer, Daniel Johnson. We encountered only a few minor hiccups with the double bass monitor.
Daniel remarked that the vocals sounded clear and exceptionally smooth. He even offered to share contact information for other local sound companies.
It was indeed a good day and a fantastic show, and it's worth noting that Lampifier Programmable Microphones played a significant role in making it happen.

- Tennessee's Joe Johnston Lampifier SE Representative
Lampifier of Tennessee Categories
Lampifier of Tennessee Email
Lampifier of Tennessee Phone Number
Lampifier of Tennessee Return Address
Lampifier of Tennessee
1715 Murfreesboro Rd
Lebanon, TN 37090
United States